Berlin event showcases culture of Inner Mongolia
Updated: 2023-08-11 10:12
( Chinaculture.org )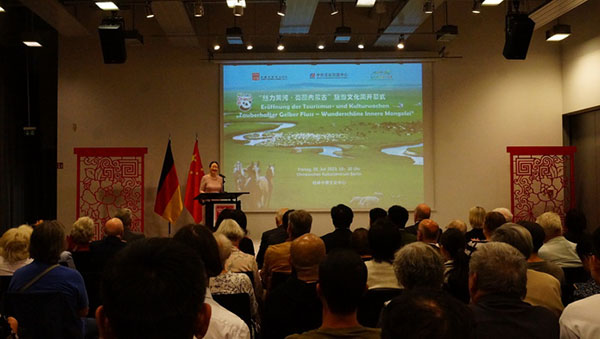 The Inner Mongolia Tourism and Culture Week opened in Berlin on July 28, showcasing the splendor of North China's Inner Mongolia autonomous region while celebrating the revered Yellow River culture.
Through photo displays, cultural items and video presentations of local tourism resources and delicacies, the event shared Inner Mongolia's history, culture and landscape.
Sun Qinhang, director of the China Cultural Center in Berlin, said at the event's opening that Inner Mongolia boasts a long history and rich culture with magnificent mountains, rivers and grasslands, and the Yellow River, as one of the mother rivers of the Chinese nation, has nurtured the Chinese civilization.
"I hope that through this event, people could have a deeper understanding of Inner Mongolia and the culture of the Yellow River basin," she said. Sun also said she hopes the event will help enhance cultural and tourism collaboration between China and Germany, and foster mutual understanding and friendship between the Chinese and German people.
Impression of Inner Mongolia, a major exhibition of the event, will be held at the China Cultural Center in Berlin through Aug 24.
The tourism and cultural week is co-hosted by the China Cultural Center in Berlin and Inner Mongolia's culture and tourism bureau.