China Cultural Center in Berlin
Updated: 2021-03-12 11:03
( China Cultural Center )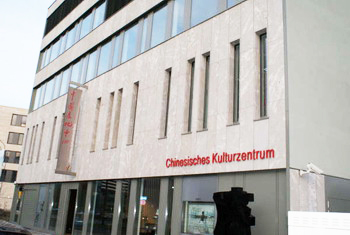 Introduction
The China Cultural Center in Berlin, established under the auspices of the People's Republic of China, is the third of its kind it Europe, after one in Paris, France, and another in Malta. Officially opened on May 26, 2008, the center is a counterpart of the Goethe-Institut set up in Beijing by the German government.
The center aims to be a window for the German people to learn about Chinese culture and the arts, and the achievement made in the information industry. The center is devoted to promoting cooperation and communication, facilitating mutual understanding and maintaining the friendship between the two countries.
Facilities
The center is located in the downtown of Berlin, covering 2,800 square meters. The center is equipped with a multifunction hall, a library, a reading room, an audio room, a management office and several classrooms, where various cultural activities are provided for the German people to know more about China in the past and the future. The library and reading room are open to visitors who are interested in Chinese history and culture, in which all kinds of books and journals on the topic of China will be provided.
Functions
Training programs for beginners and advanced learners are well organized by professional teams at the center, including Chinese language, dancing, painting, martial art and cooking. All the programs are financed and backed up by the center.
Performances, exhibitions, lectures, concerts and movie screenings will also be held at the center for the German people to enjoy and learn about Chinese culture.
Through all kinds of cultural activities, the center is dedicated to connecting China with the world, and enhancing communication between the two counties. The center will also serve as a window for the German people to understand China and a bridge for friendship with the Chinese people.
Contact
Tel: 0049 30 2639079107; 0049 30 26390790
Fax: 0049 30 2639079108; 0049 30 2639079109
E-mail: cccber@chinaculture.org
Website: http://berlin.cccweb.org