China Cultural Center in Mauritius
Updated: 2021-03-12 14:12
( Chinaculture.org )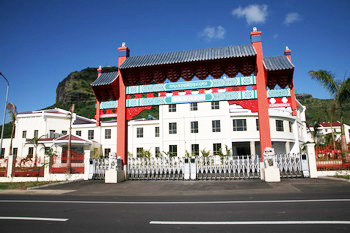 Introduction
The China Cultural Center in Mauritius, situated in the southwest of the capital city Port Louis, is a group of buildings in traditional Chinese style. First erected in 1988 and rebuilt in 2008, it is the first cultural center set up overseas by the Chinese Government and covers 9,803 square meters. It helps Mauritian people understand Chinese culture and has made a positive contribution to the development of cultural exchanges between China and Mauritius and the reinforcement of friendship.
Facilities
The center is equipped with an administration office, reception room, theatre, library, reading room, exhibition hall, dance studio, classrooms for Chinese language courses and music, video room and floodlit court. The center has many books, films, videocassettes, photos and handicrafts.
It offers courses in Chinese, dance and martial arts all year round. Teachers with experience are invited from China to serve the Mauritian people by teaching language and culture, dance and martial arts.
Functions
The aim of the center is to introduce Chinese culture and arts to the Mauritius and to enhance the understanding and friendship between the two peoples. For the past 10 years, many activities have been held at the center including art exhibitions, cultural shows, lectures, symposiums, receptions, film soirees, Chinese film weeks and culture days. The center has also given support to many activities organized by the government and non-governmental organizations of Mauritius.
Contact
Tel: 230-2088547, 230-2088595
Fax: 230-2128727
E-mail: cccmau@culturalink.gov.cn
Website: http://mauritius.cccweb.org/