China Cultural Center in Paris
Updated: 2021-03-12 10:55
( China Cultural Center )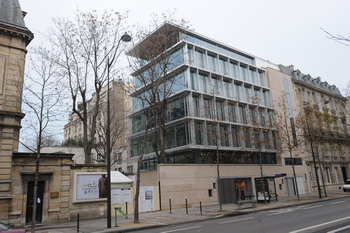 Introduction
The China Cultural Center in Paris, opposite the historic Grand Palais and Petit Palais across the Seine River, sits next to elegant classical architecture that has witnessed the evolution of the city.
China and France have long wanted to set up cultural centers in each other's lands and signed an agreement in 2001, setting the centers in their capital cities. Inaugurated on November 29, 2002, the China Cultural Center in Paris is the first of its kind in a western country.
It serves as a platform to enhance dialogue between the ancient yet thriving Chinese civilization and the romantic French. It also provides a channel for French people to better understand China.
Facilities
The center covers more than 4,000 square meters in two buildings. Facilities include a multifunction hall, exhibition hall, library, reception hall and several classrooms. The library and reading room are open to visitors interested in Chinese history and culture, in which all kinds of books and journals are provided.
Functions
As a platform of cultural exchange, the center hosts a series of activities including lectures and seminars, performances, concerts, film screening and exhibitions, and organizes teaching and training in the Chinese language, calligraphy, traditional painting, Chinese instruments, martial arts and traditional Chinese medicine. The multimedia library also provides CDs and tapes about China.
Contact
Tel: 33153595920
Fax: 33153595929
E-mail: cccpar@culturalink.gov.cn
Website: http://paris.cccweb.org/